boek: elementary survival medicine
This book aims at helping those who want to help themselves.
Introduction
There is constant turbulence worldwide. High-impact events are a fact of life.
What happens if our society and critical infrastructure are unexpectedly disrupted by man made or natural disasters? The probability is heightened by, among others, population growth, mass migration, (cyber) terrorism, armed conflict and a globally integrated economy. A disruption in vulnerable world wide supply chains can cause economic upheaval. The EU Green Deal and Western energy transition contribute to the weaknesses in the system; rare earth elements, indispensable for the energy transition and our arms industry, are becoming even more scarce and a source of possible conflict.
Food shortages caused by soaring energy prices are on the horizon. Will food still be affordable at all? Long term unprecedented money printing by Central Banks has lead to hyper inflation and an imminent economic collapse.
The world sees new conflicts with a high risk of escalation. The war between the Russian Federation and Ukraine backed by NATO forces has gained momentum and the Russians are threatening to use nuclear weapons. Russia has been driven into China's arms. After "the end of history" in which the US unequivocally dominated the world, the centre of world power seems to have quietly shifted to China. The US strives to offset Beijing's influence in the South China Sea. With oil reserves of several billion barrels, an estimated 900 trillion cubic feet of natural gas, and several centuries' worth of competing territorial claims, the region is a powder keg of global conflict.
The multi-polar world is a fact and the USA will have to do everything possible to maintain its dominant position.
One crisis leads to another like falling dominoes. If all crises occur simultaneously, it is "the Perfect Storm".
An organisation is only as strong as the weakest link. When individual self reliance is strengthened, the resilience of the whole group increases.
This book aims to strengthen your own ability to weather the storm and to deal with constantly changing circumstances, "the unexpected" and disaster situations, both as an individual and as a member of a group.
My mission is to help those who want to help themselves.
Featuring QR codes to instructional videos, Elementary Survival Medicine is richly illustrated with photos and drawings, 365 pages.

Christo Motz
01 June 2023



Nu beschikbaar via Amazon
Bestellen binnen Nederland en België
Geïnteresseerden in Nederland en België kunnen het boek ook via onderstaand formulier bestellen. Het boek kost
€ 52,95
, exclusief verzendkosten.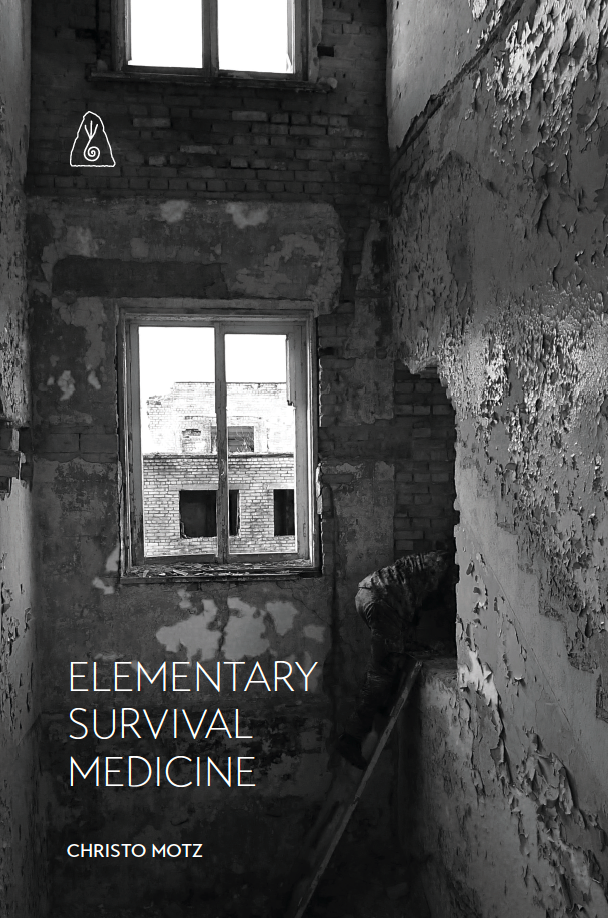 Recensie
Hoe blijf je veilig in een plotseling vijandige omgeving?
Als antwoord op deze vraag heb ik een prachtig boek gekregen van Christo Motz met de titel: 'Elementary Survival Medicine'. Dit Engelstalige boek is meer dan een doorsnee survival handboek. Daar waar veel survival handboeken stoppen gaat Christo verder! Praktische, medische noodhandelingen die het verschil kunnen maken tussen leven en dood worden uitgebreid beschreven en verduidelijkt met eigen tekeningen en foto's. Het boek is dan ook zeker niet alleen geschikt als voorbereiding op een lange tocht 'into the wild', maar biedt ook houvast voor dagelijkse 'first aid' handelingen bij acute noodgevallen. Naast de uitgebreid beschreven 'wilderness first aid' wordt nader ingegaan op 'overleven' in de breedste zin: dus niet alleen in die situaties als je er zelf bewust voor kiest in een uitdagende omgeving, maar vooral als het ons onverwachts kan overkomen en als ons alledaagse 'normale' bestaan wordt aangetast en verstoord door de natuur, geweld, terrorisme, oorlog, een pandemie of anderen om ons heen! Dit boek is een aanrader voor een ieder die zich wil voorbereiden op een onverwachte omgeving of een onverwachte gebeurtenis: wereldreizigers, rugzaktoeristen, bergbeklimmers, zeezeilers, avonturiers, first-responders, 'preppers', maar vooral ook gewoon voor 'the grey man': jij en ik!
Christo Motz is een zeer ervaren expert en adviseur op het gebied van jezelf aanpassen aan een vijandige omgeving. Ik ken Christo al jaren als een gedreven specialist op het gebied van stressregualtie, ademhalingstechnieken en koudetraining. Christo heeft sinds 1999 zeer veel ervaring opgedaan in binnen-en buitenland; zijn boek is dan ook verrijkt met eigen ervaringen in 'urban survival' in o.a. Oekraïne en Estland.
Christo Motz dank voor het delen van je ervaringen en uitgebreide kennis door middel van dit mooie en uitgebreide boek!
Maarten Smelt
Officier van Dienst Brandweer / Strategisch Inkoper Veiligheidsregio Twente